Connecticut Business License
A business entity can be registered through the Secretary of the State office in that state but before you do so, you need to ask, "do I require a business license in Connecticut?" Depending on the industry and location of your business entity, you will be required to apply for a business or professional license or permit. Generally, a license to conduct business is issued by the state and local government and this includes cities, counties, or even towns but some businesses may be required to obtain license from the federal government as well.
One of the important things to note is that Connecticut company license pertaining to a specific industry is issued or regulated by agencies related to that industry. Let's look at an example to understand this better:
Insurance Company License (Domestic) – This type of business license allows domestic Connecticut insurance companies to operate in the state. The licensing agency is: Department of Insurance.
Commercial Fishing – This type of business license is required by tourism cruise vessels; commercial fishing vessels; and fishing vendors or vessels that aid in the import of live fish. The licensing agency is: Department of Energy & Environmental Protection.
Connecticut Business License Requirements
What are the requirements for obtaining a business license in Connecticut? Does your business entity require any special permits? Does your business require a single license or multiple licenses? These are some of the important questions that you might be confronted with and hence, we have created a guide that will help answer some of these questions.
The requirements of a Connecticut company license or permit can vary according to location and also according to the type of business. Since Connecticut has a single statewide sales and use tax, a business entity will be required to comply with business permit or license requirements of the Department of Revenue Services, CT. Some of the common business licensing requirements in Connecticut include:
State or County business license
Home occupation permit
Tax ID number (aka EIN or FEIN and State Tax Numbers)
Health department permit
Zoning permit or land use permit
Alarm permit
Building permit
Fire and police department permit
Getting a Business License
How do you get a state or county business license? The procedure can be confusing but the best way to go about obtaining a license is by identifying the type of business and your location. Let's look at an example to get an insight into the process: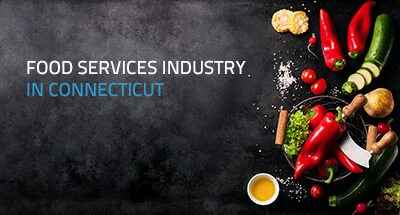 Industry Type: Food Services
You are planning to start a business in Connecticut and you have chosen to start a Restaurant that serves alcoholic beverages. What are the various requirements?
The "food services industry" in Connecticut include a variety of businesses like restaurants, cafes, delis, coffee houses, catering services, clubs, and even food trucks. If you have chosen the restaurant business then the first step is to contact the "local health department" in the city, county or town of operation to obtain a business license in Connecticut for food service.
The food license fee for a restaurant will vary according to the seating capacity of your establishment. For example: Business license & service fees for an establishment in Stamford, CT with seating capacity of a maximum of 15 people is $28.00 while the fee for an establishment with seating capacity of 200 people is $559.00. If you also offer catering services then you will have to pay an extra fee of $420.00.
If you plan to start a Bakery along with the restaurant then you will be required to obtain separate licenses for the same as the Connecticut Department of Consumer Protection requires the following types of business entities to obtain food licenses in the state:
Bakery
Apple Juice & Cider Manufacturer
Food Warehouse
Vending Machine Operator
Food Manufacturer
Egg Distributor
Non-Alcoholic Beverage Manufacturer
Frozen Desserts – Retail and Wholesale
Since, your restaurant would be serving liquor or alcoholic beverages in premises then such an entity would need to also obtain a "liquor license or permit".
The liquor permit is a business license that will be issued by the State of Connecticut, Department of Consumer Protection, Liquor Control Division. The application fee for the same is $100.00. You can check a sample of the application here.
It is important to note that a single business depending on the industry and type of operation may require multiple business licenses or permits.