Entity Management Software
IncParadise is an online system that helps you to create your dream company in any part of the USA. Incorporated in 1999 as a software company, IncParadise was converted into a corporation service company in 2001 under the name EastBiz. Later in 2017, Tomas Milar acquired the company to help it reach an entirely new level. Headed by Tomas Milar, the IncParadise has been successful in assisting many clients to fulfill their dreams of owning a successful company in the USA.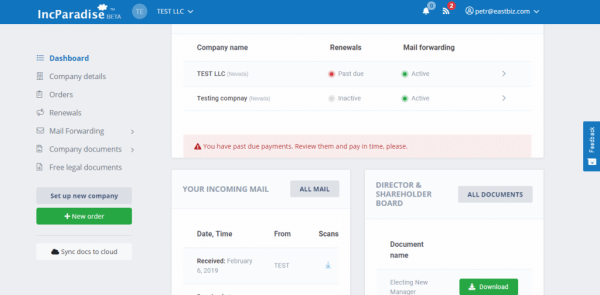 Incorporate with IncParadise
IncParadise is a registered agent in all the states in the USA and also offers its services in all the states. Services offered by IncParadise are:
Incorporation & Company Registration – Have your company registered in any state in the USA by filing for it online through IncParadise. Simply apply for the EIN as well to have your company up and running in no time.
Foreign Qualification – Easily register your company in any state in the US through our platform without the need of physically visiting the place.
Post-Incorporation Setup – Set up your business address by opting for our virtual business address, hire us as your company secretary to help you along the way. Also subscribe to our mail forwarding service to have only the important mails sent to you via email or post. In short, sit at your home and run your business efficiently and easily without any hassle.
With IncParadise, you do not need any law degree to open a company and run it smoothly. Our executives, website, and software would help you understand every part of what you need to do and what choices you have to dosomething. All the steps are clearly explained. Plus, you can ask us any questions regarding how you will use our services at all times. Being a client would also allow you download and use automatically tailored documents for your company's needs.
Stay Updated With the Operations of Your Company
IncParadise doesn't stop helping even after you have set up your company. With our application system and the help of our professionals, you would be able to stay up to date with your company's operations. Our platform would offer you the following features:
Client Zone – Know what is happening with your company, and renew any services that you still need for all the companies that you have incorporated online, in just one place.
Email Reminders – Get all the important alerts and notifications for deadlines, important dates, and required actions on your email for your company.
Auditable History – The Client Zone of IncParadise would help you save all important documents for use later on in the business. You would be able to use these to tell the story of your company securely and reliably.
The Client Zone
Once you have opted for our services, you would get a client account from where you can handle everything based on your company and services that we are offering you. You can use the login details to access your account on the Client Zone.
Use your password to login the Client Zone and change your password as you desire. As soon as you log in, you would be able to see a dashboard with all the companies that you have set up through IncParadise.
You can easily alter any individual contact information for each company on the dashboard.
Check the status of your orders easily on the platform, renew any subscriptions, if needed.
You can easily create the company documents like the minutes for the director's meeting and shareholder meeting. You would also be able to access all the copies of important documents on the dashboard like the Articles of Incorporation and so on.
Access the mail forwarding service results easily through the dashboard. Set the instructions that you want for the service, see the received mails, scan all or selected mails and send them to your personal inbox.
New Features of the Client Zone
Other than the basic features mentioned above of the IncParadise Client Zone, there have been some updates incorporated to make things easier for our clients. Here is what you can do with the Client Zone now:
View & access all the companies that you have set up via IncParadise from your dashboard. This means that you would not have to go through multiple pages to manage the several companies that you have incorporated through IncParadise.
Enjoy using the easy-to-use and advanced user interface.
Easily place any new orders for services that you need for your company through the dashboard of the Client Zone in IncParadise instead of placing the order through the public form.
Comfortably access the Mail Forwarding option box right from the new dashboard without the need of going through multiple web pages.
Easily access & view all incoming emails for the mail forwarding service on the dashboard without having to surf through different web pages.
Add funds into the mail forwarding account to keep the subscription going easily. IncParadise would also leave a notification on your email as soon as your funds of the mail forwarding fall below the limit so that you can add the funds on time and not miss out on any important post.
Stay secure with the advanced privacy and security protection system.
Connect with your DropBox and Google Drive easily in the new version of cloud services on the dashboard.
Securely & comfortably manage and store all the company documents in a much better way.
Open & access the IncParadise Client Zone through any device that is connected to the Internet.
Simply select the option to "set up a new company" from the dashboard, if you want to open another company in any of the 50 states in the USA with the help of IncParadise.
Service Expiry Notifications: Get updates regarding any dues regarding your service subscriptions of mail forwarding, virtual office, renewal of company certificates, annual list and so on through pop-ups. You would also get updates for any tax or legal document deadlines so that you stay prepared ahead of time.
Simply log in to your account on IncParadise via https://client.incparadise.net to access the dashboard and its features.
Issue Stock & Manage Your Company Ownership
Eqvista – It is a sister company of IncParadise and owned by Tomas Milar, Eqvista is a FREE cap table web application that assists founders to easily issue and manage all the company shares online. IncParadise allows you to access this application right from the dashboard as soon as you incorporate your company through IncParadise.
With Eqvista, you would be able to issue company security (Convertible Notes, Options, Warrants, Stocks, SAFEs & KISS) to investors, employees, shareholders, founders and manage all the legal documents easily. You would also be able to keep tabs on what happens to the shares and your ownership through the application.
Here are some of the main things you would be able to do with Eqvista:
Cap Table – Note & keep track of who owns what part of your company all in one place with the FREE cap table application.
Board Actions – Approve all the stock grants through the application directly. Have your board approve and modify things easily through the application instead of relying on heavy paperwork and long meetings.
Electronic Stock Issuance – Easily issue stocks online with customizable IRS form 83(b) elections and vesting schedules built-in.
Get Tax Help – Save a lot of money by paying your taxes and complying with the laws related to the shares of your company. Make your life easier with this FREE cap table application.
We are here to help!
If you are new to IncParadise and want to enjoy the perks of owning a company in the USA with the help of IncParadise, you can connect with us. If your require further assistance, our friendly and knowledgeable team members are here to help you make the right choices, stay on the right track and get the best out of our services.You can also get both moral and technical support at any time from us.
Contact us today with any queries you have in your mind. We guarantee you peace of mind and business success. Talk to us now!