START A BUSINESS IN NEVADA
An individual thinking of establishing a start-up has to make extensive planning regarding business operations. It is also important to identify which state is perfect for setting up a new business. One of the top 10 states with an excellent overall business climate is Nevada. Over the last decade, forming a small business in Nevada has increased tremendously as the Silver State has a pro-business law and infrastructure at the state, city, and county level.
An Entrepreneur's Guide to Start a Business in Nevada
We understand that the requirements for each new start-up or entrepreneurship are different and so are the procedures to form a business in Nevada. Thus, we have created this guide in the form of a detailed Nevada business checklist that will be useful to every entrepreneur and business owner. The guide will take you through the advantages and benefits for an entrepreneur to conduct business planning, entrepreneurial training, networking events and to choose the best business structure. It will also provide guidance for registering a business, funding, and marketing it.
Why choose Nevada to start your business
Nevada is one of the few states that have a favorable tax climate, just perfect for a start-up or small business. There are several aspects of the economic and business environment that makes the Silver State such an attractive destination for entrepreneurs and business owners. If you are thinking of doing business in Nevada, it is important to know the many advantages that it offers. Some of the advantages are:
Low Cost of Living
The first thing that comes to mind when you think of Nevada is "Las Vegas!" although that is not the only attraction for businesses in this state. A new business in Nevada needs to consider the financial impact of operations including the cost of living. This low cost of living also opens the doors for businesses to hire talent from other states to work in Nevada.
Tax Laws and Benefits
Tax benefits is one of the top reasons driving business formation and if you register a business in Nevada, you won't have to worry too much about taxes. Why? The state is considered by many as a strong tax shelter. For example, a limited liability company doesn't have to pay any franchise tax or personal income tax. Similarly, different forms of businesses can enjoy different tax benefits.
Tech Revolution
It may be difficult to identify what is the best business to start in Nevada but one aspect you can be rest assured of is that it is the hub of a tech revolution! The tech story started with Tesla with their Gigafactory 1 in Reno and today, it is home to several tech startups. Big brand names like Apple have their businesses in Nevada, especially in the Reno Technology Park.
Steps to Start a Business in Nevada
The one thought that bothers most new entrepreneurs or start-ups is identifying the steps to start a business in Nevada. There are many aspects to consider that can drive a business to grow from a sapling stage (ideas) to becoming a huge tree (revenue generation). Let's take a detailed perspective into the various stages of starting a business from scratch.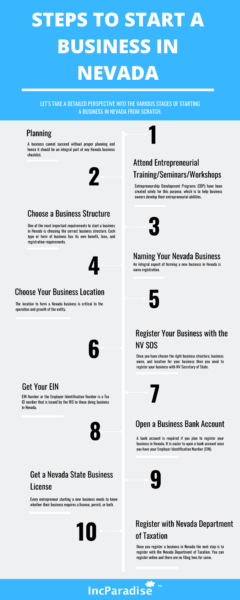 1. Planning
A business cannot succeed without proper planning and hence it should be an integral part of any Nevada business checklist. Business plans are like blueprints that provide a detail of how best to effectively operate a business based on what business objectives needs to be achieved. Some of the benefits of a strong business plan include:
Provide a focused road map to form a business in Nevada and target long-term growth and gains
Test overall viability of an entrepreneur's objective and ideas
Assists with research and critical strategies focusing on complex short and long-term business issues
Provides an action plan related to making a business operational in the local, statewide, or global marketplace
Help in securing operating capital through bank loans or equity financing
Provide an insight into starting an online business in Nevada
Provide a strong business plan attracts angel investors or venture capitalists
Of course, if you are a first-time entrepreneur planning to start a business in Nevada then preparing a business plan can be quite confusing as there are so many things to consider. Some of the essential tools that you can use to create a thorough plan include:
Customizable Templates: A business plan will help you to decide the best business to start in Nevada. One of the ways of going about creating such a plan is to download a complete "Business Plan Template" or specific segments of the plan like "Marketing & Sales Template" or "Financial Projections Template".
Innovative Apps: These are innovative applications meant for those who plan to start businesses in Nevada. The applications will help you create a "Business Model Canvas" (BMC) on your computer or laptop and can be shared with the entire team. The Business Model Canvas is basically a lean startup and strategic management template that provides a visual chart with different elements including infrastructure and finance. Some of the most popular business model canvas applications include Canvanizer 2.0, Strategyzer, etc.
The customized templates for business plans along with BMC applications make writing a business plan almost a walk in the park!
2. Entrepreneurial Training/Seminars/Workshops
Modern day entrepreneurs are considered to be the driving force of society and the economy of almost every nation and a start-up business in Nevada needs the strong leadership of an entrepreneur. Why Entrepreneurial Development Programs are Important?
The success of successful businesses in Nevada lies in strong entrepreneurship skills. A promising business owner need not only enhance their existing skills but also acquire other relevant skills and abilities to spearhead their business. Entrepreneurship Development Programs (EDP) have been created solely for this purpose, which is to help business owners develop their entrepreneurial abilities. There are times when start-up owners may possess such skills related to doing business in Nevada and EDP can help them with polishing and incubation of those skills. Some of the important aspects of EDP include:
Provide insight into how best to form a business in Nevada
How to move out of the scope of the existing market
How best to improve existing or new services, products, or technology
Create a social change
Create job opportunities or increase employment
Increase innovation opportunities by promoting research and development
Ensure optimum utilization of available resources to promote economic growth
Enhance overall standard of living
This brings us to the question of whether there are any entrepreneurial development programs available for entrepreneurs planning to register businesses in Nevada. There are training programs available and the important programs include:
NxLeveL for Entrepreneurs: This is a multi- week entrepreneurial development program that has been created to provide information and guidance on how you can plan for business success. Some of the aspects of setting up a business in Nevada that have been incorporated by the program include business strategies, goal-setting, management techniques, and financial accountability.
Economic Development Authority of Western Nevada (EDAWN): This is a program that is focused on empowering entrepreneurs through inspiration towards starting an online business in Nevada, experiential learning, connectivity as well as accolades.
Apart from the above program, some of the top colleges and universities in Nevada also offer entrepreneurship programs like UNLV Center for Entrepreneurship (CFE) and University of Nevada, Reno – Office of Enterprise & Innovation. get a quick Introduction to entrepreneurial development.
3. Attend Networking Events
If you are an entrepreneur planning to form Nevada business then networking will be critical towards determining the success of your business. A research "Informal Innovation: Entrepreneurship and Informal Communities" revealed that almost 78% of startups owe business success to networking. This is one of the most important aspects of any Nevada business checklist – every entrepreneur should attend networking events frequently.
Networking has always been the key to the overall business and revenue growth of start-ups. How do you actually network or how can you increase existing networks? The solution is as simple as attending networking events that focus on businesses in Nevada. These events are attended by successful entrepreneurs as well as future business owners. You can start by becoming a part of networking groups prior to or after you register your business name in Nevada.
Some of the ways that networking events can help you or your business are:
New Contacts: A networking event is a platform where you will be able to meet potential clients and also generate referrals.
Identify New Opportunities: One of the highlights of a networking event is that it will help you identify opportunities for future partnerships and expansion. It will also help you identify new markets for services and products if you are planning to form a business in Nevada.
Business Visibility: The platform will help you create high visibility for a start-up or new business. Networking events like business luncheons can raise your business and personal profile.
Knowledge Platform: One of the benefits that you can enjoy is sharing of ideas and receiving knowledge from other business owners or entrepreneurs. This knowledge and experience of others can assist in doing business in Nevada.
It is important to know that you can participate in any of the networking programs before and after you register your business in Nevada. You can also sign-up for such programs online and participate at a physical location. The networking programs are an important catalyst of starting an online business in Nevada. You can check out the following:
Small Biz NV: They provide a detailed calendar of networking and start-up business programs that you can check here. The programs have been initiated by the Department of Business and Industry, State of Nevada. This is an essential program in any Nevada business checklist.
Startup Weekend Events: The programs are particularly focused on Techstars Startups and they are held over weekends. The program provides a platform to connect with new customers and helps sharing experience. The program calendar is available here and it takes place in Reno or Elko.
4. Choose a Business Structure
One of the most important requirements to start a business in Nevada is choosing the correct business structure. Each type or form of business has its own benefit, laws, and registration requirements. In fact, there are separate laws and forms to register a business name in Nevada. The different types of business structures you can form in Nevada include:
Limited Liability Company (LLC): A Limited Liability Company is considered to be a hybrid entity, which combines the benefits of a partnership and a corporation. If you want to register a business in Nevada as an LLC then it will be governed by Chapter 86 of the 2015 Nevada Revised Statutes. You can form a domestic, foreign, and a professional Limited-Liability Company in the state. You will be required to register your business name in Nevada prior to filing formation documents.
Corporation: This type of business entity is considered to be created by an "artificial person" and is operated with the permission of the state of incorporation. The artificial person is only on paper and it should have at least one stockholder. If you form a business in Nevada and register it as a Corporation then it will be governed by Chapter 78 of the 2015 Nevada Revised Statutes. The type of tax treatment will help you decide the best business to start in Nevada.
Sole Proprietorship: A Sole Proprietorship is a type of business that any person can form and it is intended to perform a service or engage in a trade that results in profit. An entertainer, a freelance photographer, or an independent contractor are examples of a proprietorship business. It is normally a one man show. Although sole proprietorships are not required to file formation documents with the Secretary of State; you will require a State Business License to start a business in Nevada.
Partnership: A partnership business structure involves two or more owners and is governed by Chapter 87 of the 2015 Nevada Revised Statutes. You can register your business in Nevada in the form of different types of partnership like a Limited Partnership (LP), Limited-Liability Partnership (LLP), and Limited-Liability Limited Partnership (LLLP). You will be required to register the business name in Nevada and submit the Initial/Annual List of General Partners with the Secretary of State. Partnership businesses can be domestic or foreign entities.
Form the top Nevada Business Structures
5. Naming Your Nevada Business
An integral aspect of forming a new business in Nevada is name registration. Although many people think that they should not devote much time to choosing a business name, that should not be the case. Why? There is a process to register your business name in Nevada and as an entrepreneur, you should ensure all aspects of the naming process is considered. The following tips will help you choose the right business name:
You need to ensure that your chosen name is distinguishable from any other name existing on the records of the Secretary of State
Business names will have different criteria according to the chosen structure of business in Nevada e.g., the name of a limited-liability company must contain the words "Limited-Liability Company," or abbreviations like L.L.C., and LLC among others.
The business name should provide an idea of your business activity e.g., if you plan on starting an online business in Nevada then your business name can be "Lime Kart LLC".
The chosen name to form Nevada business should be easy to pronounce and should sound positive
The name should be available for "domain name" so that you can target your prospective customers quickly
In order to register your business in Nevada, you need to find an appropriate business name. There are several online resources that can assist you with various aspects of a business name. For instance:
Business Name Generators: These are software or online applications that you can use to find a suitable name. Some of the popular name generators include Novanym, Namelix, Anadea, and Wordlab among others.
Business Name Ideas: You can find business names based on type of product, service, or industry. One of the websites offering ideas to find an appropriate name for your business in Nevada is Squadhelp.
Domain Name: You can book a domain name before you register your business name in Nevada so that you are one step ahead of the competition. Some domain operators you can use include Lean Domain Search, godaddy, and hostgator among others.
6. Choose Your Business Location
The location to form a Nevada business is critical to the operation and growth of the entity. In fact, the best business to start in Nevada is also dependent on the location. Fr example, those focusing on export should be located closer to a major transportation hub (Las Vegas) or a Foreign Trade Zone (Clark County). Similarly, there are several other factors to be taken into consideration like:
Zoning laws
Property Values
Reduced excise taxes
Business Insurance Rates
Industrial park or center
Minimum Wage laws
Opportunity zones
Enterprise zones
Government licenses and fees
State and Local Taxes
State and Local Business Incentives
If you are searching for a location to register your business in Nevada then there are sixteen counties and 1 independent city (Carson City) to choose from. The counties are:
Churchill County
Clark County
Douglas County
Elko County
Esmeralda County
Eureka County
Humboldt County
Lander County
Lincoln County
Lyon County
Mineral County
Nye County
Pershing County
Storey County
Washoe County
White Pine County
It is important to understand that you can start a business in Nevada in each of the above counties but the jurisdiction and licensing requirements will be different for each county. The Code, Ordinances, laws related to regulated businesses and administrative services will vary from one county to another.
7. Register Your Business with the NV SOS
Once you have chosen the right business structure, business name, and location for your business in Nevada, it is time to take the first step towards establishing your business. The best way to doing business in Nevada is by registering it with the Secretary of State (SOS).
Some of the important resources that will assist you to register your business in Nevada with ease include:
Tax: The Nevada Department of Taxation provides useful resources regarding EIN and existing tax brackets for starting an online business in Nevada.
Statutes and Regulations: These can help you get information and understand laws pertaining to your business structure. Click Here for Business Laws.
Restricted Word List: This is a resource that will help you register your business name in Nevada as usage of certain words are restricted.
Form your New Nevada Start-up with Incparadise!
8. Get Your EIN
EIN Number or the Employer Identification Number is a Tax ID number that is issued by the IRS to those doing business in Nevada. It is similar to a social security number except that it is applicable only to businesses. You can apply for an EIN only if you are planning to form a business in Nevada. You can apply for it with the IRS through mail, fax, and online. Some of the important resources that will help you with obtaining the Nevada Tax ID are:
Department of Taxation FAQs: This is a page focused on helping you obtain EIN to start a business in Nevada. You can download or read through their EIN guide.
Nevada Tax: If you are unaware of the various applicable taxes for starting an online business in Nevada then visit the Nevada Tax Center. It provides an insight into business taxes and how to manage business tax filings.
We can file EIN on your behalf!
9. Open a Business Bank Account
An important financial aspect of any business is working capital and a bank account is what keeps the capital safe. A bank account is required if you plan to register your business in Nevada. It is easier to open a bank account once you have your Employer Identification Number (EIN).
Opening a bank account has its own benefits and hence is an important part of any Nevada business checklist. Some of the benefits are:
It will make recordkeeping of business finances easier
It will help demarcate business from personal finances
You will be able to calculate your taxes properly and make necessary payment
Helps in disbursement of salary
Helps in tracking business expenses
Helps in audit prevention
It adds credibility to any business in Nevada
10. Get a Nevada State Business License
When you start a business in Nevada there are several requirements that the state requires you to fulfill and one such requirement is that of a business license. Every entrepreneur starting a new business needs to know whether their business requires a license, permit, or both. This is an integral part of your Nevada business checklist and you can apply for one along with your business formation documents. Here are some facts:
A business license or permit can be issued by the Secretary of State or County Clerk
You may require a single or multiple licenses depending on business activity or industry
Apart from the state business license, you may also require city or county specific licenses
In order to learn about how you can apply for a business license, check our Nevada Business License information page.
11. Register with Nevada Department of Taxation
Once you register a business in Nevada the next step is to register with the Nevada Department of Taxation. You can register online and there are no filing fees for same. This registration will help you file your returns annually. You may have to register for the following:
Sales tax: If you are starting an online business in Nevada that will be concentrating on selling or transferring of tangible personal property then you will be required to collect sales tax from the buyers. This tax has to be filed with the Nevada Department of Taxation.
Other taxes: Once you register your business in Nevada, depending on the type of business or business activity or revenue generated, you may have to file different taxes like the Commerce Tax and Modified Business Tax.
If you are unsure of how to file taxes or the type of tax you would have to file then the following resources will be useful: