VIRTUAL ADDRESS TO REGISTER YOUR NEVADA LLC OR CORPORATION
Nevada is one of the favorite destinations for registering a new business and this is more so because of the several advantages that start-ups enjoy in the state. The "No State-Level Taxes" environment of Nevada is promising for entrepreneurs and start-ups to form an LLC or a business corporation. In fact, there are a rising number of start-ups opting for a virtual address in Nevada to carry out their business activity as compared to the traditional brick and mortar office spaces.
An Introduction to Business in Nevada
Kauffman Index of Entrepreneurship is a research study focusing on the start-up activity in different states and Nevada has been listed among the top 5 small states. Nevada along with Idaho, Oklahoma, Montana, and Wyoming has shown higher start-up activity as compared to other states. The state witnessed a rising number of start-ups opting for virtual addresses in Nevada so that they can work from anywhere. The research also shows that the start-up density, start-up activity, and "Rate of New Entrepreneurs" in Nevada has increased in the last 5 years. The Kauffman Start-up Activity Index for 25 smallest U.S. States by population ranks Nevada at #1 with a rate of new entrepreneurs at 0.41%.
Whether you go with a virtual address in Nevada or rent a commercial space, this is a state that offers start-ups and entrepreneurs with a good business climate. According to Forbes, the state is rated #13 in the list of best states for business. There are several reasons why Nevada is a preferred state among business owners and startups.
A strong tax shelter: Businesses are opting for a virtual address in Nevada to ensure that they can benefit from the various tax advantages. Whether you are planning to form a Limited Liability Company or a business corporation in Nevada, your business will have the following tax benefits

There are no state-level taxes for LLC's
Start-ups don't have to pay corporate income tax
There is no personal income tax for entrepreneurs
You will not be required to pay any unitary tax
Start-ups don't have to pay franchise tax on income received
The state doesn't have admissions tax
You will not be required to pay any gift or estate tax

Access Business Privileges using a Virtual addresses: A virtual address in the state provides businesses with mail forwarding in Nevada options and a street address. This street address can be used by businesses in their formation documents in order to enjoy all the privileges of an LLC or corporation.
Asset Protection: Nevada is one of the few states that has put forth strong and favorable asset protection laws for the long-term benefit of businesses forming in the state. Asset protection is available to entrepreneurs in several different forms varying from the opportunity to form an LLC to choosing a domestic asset protection trust.
The Catalyst Fund: This is a very special type of fund that has been created primarily to attract new businesses to the state. Your residence may be in another state and yet, using a virtual address in Nevada, you can form a business in this state and take advantage of the discretionary grant available through the catalyst fund.
Business Address for Nevada LLC or Corporation Box
A business address is essential for any Nevada LLC or Corporation if they want to register in the state as a domestic entity. Even if your entire business operation is online like an e-commerce website, providing a physical address to the secretary of state is mandatory. It can actually be quite an expensive affair to own actual commercial space and hence a virtual address in Nevada works very well for start-ups as it provides a business with an actual street address.
Why do you need a physical address for a Nevada business?
Even though this is the age of the internet and more and more businesses are moving into the online space, the need for a physical address is still as important as it always was. There are several reasons why an LLC or a business corporation may require a physical address and some of them are:
To Conduct Business
The very basic requirement for conducting a business in the state of Nevada is to have a physical address. It is important to know that the address should be registered with the Secretary of State office. This requirement is valid for both domestic and foreign business entities. Of course, if you don't require an office but still want most of the important services like mail forwarding in Nevada, administrative staff, receiving of calls from clients etc., then opting for a virtual office would be just perfect. A virtual office means that you will have a physical address without needing to rent commercial space.
To receive documents
One of the important aspects that all businesses whether LLC or corporation share is receiving mail and documents pertaining to the business. The last thing you would want is to lose important documents containing sensitive information like bank statements, tax related mail, legal documents, and mail from the Secretary of State among others. A virtual address in Nevada plan will provide you with a physical address to ensure you receive all business related mail at a specific address. You can also use this address to receive mail from anywhere in the world.
Easy setting up of a Business
It is never easy to set up a new business and there are several areas that you need to focus on simultaneously. Getting a virtual address in Nevada is one of the first steps as you will be provided with a street address. This street address can be used by the business for the following:
Opening a bank account or even a merchant account
To register a business domain name
To share correspondence with vendors and suppliers
To receive business license, permits and business contracts
To receive mail from customers
It will help you list your business on Yellow Pages, Yelp, Google Places etc.
Ways to get a physical address for a Nevada business
In order to operate in the state of Nevada, you will have to register your start-up with the Secretary of State. It is important to understand that when you register the address of your LLC or Corporation with the secretary of state, it becomes public record. Whether you are working from home or completely online, once your address is public record, you may end up receiving junk mail. This also means that there will be no privacy and hence having a virtual address in Nevada can really be useful. The question is how do you get a physical address in the state?
PO Box: One of the most common options is to choose a P.O. Box as your physical address. P.O. Boxes are available with post offices and they are quite secure especially for mail forwarding in Nevada. If you are planning to register in Nevada, you need to find out if P.O. Boxes are accepted by the secretary of state as a valid business address.
UPS Store Mailboxes: UPS Store mailbox services provide mail forwarding services in Nevada and provide a real street address as well. You can choose between business and personal mailboxes.
Private Mail forwarding services: The third option is to go with private providers of virtual addresses in Nevada like IncParadise. These services will not only provide you with a proper street address but you will also be able to benefit from additional services like virtual office, mail forwarding, administrative staff services, and conference room capabilities among others.
Are you looking for a virtual address in Nevada?
Nevada Virtual Office & Mail Forwarding Service
Whether you are planning to register an LLC in Nevada or a business corporation, you will require a physical address to ensure you are able to conduct your business properly. You may not be ready to invest in a commercial space or a brick and mortar office but you are wondering if it is possible to get a business address without an office. It is most definitely possible with the IncParadise Virtual Office; a specialized service focused at providing a virtual address in Nevada and taking care of your essential business requirements.
Why use IncParadise Virtual Office for your Nevada business?
IncParadise, one of the top mail forwarders, and registered agents in the Nevada state have created a virtual office program that is perfect for start-ups and entrepreneurs. The primary objective behind this is to ensure you are able to conduct business in Nevada without having to rent expensive commercial space. This is a Corporate Office Program that provides you with a virtual address in Nevada where you can receive all your important mail and also use the co-shared working area and conference room to fulfill any business requirement. This virtual office will be the link between your LLC or corporation and the state of Nevada.
Mail Forwarding Service & How it Works?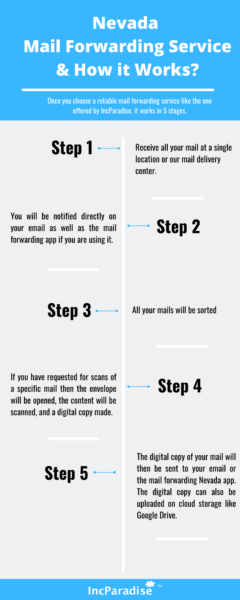 One of the reasons why most new businesses opt for a virtual office is because it provides a physical address, which enables mail forwarding in Nevada. Mail forwarding is a service with requirements varying from one business to another. The reason why businesses choose to forward mail is to ensure they never lose any of their important correspondence especially when they are traveling or based out of the state. Once you choose a reliable mail forwarding service like the one offered by IncParadise, it works in 5 stages:
Stage#1: Receive all your mail at a single location or our mail delivery center
Stage#2: You will be notified directly on your email as well as the mail forwarding app if you are using it
Stage#3: All your mails will be sorted
Stage#4: If you have requested for scans of a specific mail then the envelope will be opened, the content will be scanned, and a digital copy made.
Stage#5: The digital copy of your mail will then be sent to your email or the mail forwarding Nevada app. The digital copy can also be uploaded on cloud storage like Google Drive.
IncParadise Mail Forwarding App
In this age of the internet where there is an app for almost everything then why not a mail forwarding in Nevada App? At IncParadise, we believe that our customers should derive maximum benefits from our virtual office and mail forwarding programs. Hence, we have created an application for both Android and iOS devices. The app functions as the link between the mail delivery center and you. Every time your mail is received at the center; you will receive a notification on the app.
Our mail forwarding in Nevada app can be used for ordering other services or making specific requests. If at any given point in time, you want to change the schedule of mail delivery from monthly to weekly, you can do it using the app. You can even request scanning services for specific letters or documents.