If you are launching a startup and are wondering which apps to use to manage your work and team, you are in the right place! We have been using these apps ourselves,  so we are going to highlight the pros and cons of each.
Trello

Trello is great for getting things done. We recommend Trello for creating To-Do lists. When you think of something you want to add to your project, you just add new card to the To-Do list. You can leave it there as long as you like– and when you decide to start working on it, you simply move it to the Doing list. This feature works best for those conducting software development projects and such. For example, when your programmer finishes something from the Doing list, he first moves it to the Waiting for review list for a project manager to check whether everything is done. When the project is finished, he can finally move it to the Done list. If not, he will move it back to the Doing list. Having it organized this way you will give you a better idea of how your project moving forward. The more cards in the Done list, the better!
Slack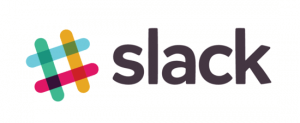 Slack can be used as a "management center". You can send messages and share files with your coworkers. A feature we found very useful is Trello's integration with Slack. You see all posts from Trello in your Slack – you can learn more this feature and set it up here. Communication in Slack works via channels. All of your added team members can post in your channel – it is similar to a group chat. You can discuss your ideas there, but for getting things done,  Trello lists and cards are more useful. For planning and discussion, use Slack.
Evernote

Evernote took taking notes to another level. You can easily organize your notes, but what is even better, is that your notes do not have to consist only of text – you can add images, voice records, and even hand drawings to your notes. These notes can be shared with your coworkers, so you can even work on them together. Evernote comes in handy when there is a longer piece text you have to write – like the new content for your website, for example. You can organize your notes in notebooks, and you can also search for an exact word or phrase contained within your notes.